Seychelles is an established and reputable international financial jurisdiction, offering international businesses and investors a range of sophisticated tax efficient products that meet the increasingly demanding criteria of flexibility, adaptability and security.
The regulatory environment has been carefully developed through a partnership between the public and private sectors. This has allowed the Seychelles to find the right balance between the international requirements of global best practices and the needs of international businesses and investors. The regulatory bodies for international financial services in Seychelles is the Financial Services Authority.
Geography
T
he Seychelles' 115 granite and coral islands extend from between 4 and 10 degrees south of the equator and lie between 480km and 1,600km from the east coast of Africa in the western Indian Ocean.
This Indian Ocean republic occupies a land area of 455 km² and an Exclusive Economic Zone of 1.4 million km². It represents an archipelago of timeless beauty, tranquillity and harmony that is famous for its world-beating beaches and for its great diversity which rolls from lush forests down to the warm azure ocean.
Of these 115 islands, 41 The Inner Islands constitute the oldest mid-oceanic granite islands on earth while a further 74 form the 5 groups of low-lying coral atolls and reef islets that are the Outer Islands.
Seychelles is home to no less than two UNESCO World Heritage Sites: the legendary Vallée de Mai on Praslin where the wondrously shaped Coco-de-mer nut grows high on ancient palms and the fabled Aldabra, the world's largest raised coral atoll, first seen by early Arab seafarers of the 9th century A.D.
Seychelles, one of the world's very last frontiers, promises adventure and breath taking natural beauty in pristine surrounds still untouched by man.

Climate
T
he Seychelles' climate is one which is always warm and does not reach extremes of heat or cold. The temperature rarely drops below 24°C or rises above 32°C. All but the remotest southern islands lie outside the cyclone belt making Seychelles' a year round destination for sun worshippers and beach lovers.

Government
S
eychelles is a multi-party democratic republic with a President that is independently elected heading the executive branch and a National Assembly made up of 33 democratically elected representatives.

Society
I
n the evolution of its society, Seychelles has remained faithful to its multi-ethnic roots. For over two centuries, the islands have remained a melting pot of different races, traditions and religions from the four corners of the earth.
Inspired by its grand diversity of cultural influences, ethnic diversity with racial harmony remain the mainstays of today's vibrant yet tranquil Creole nation for which harmony is a way of life.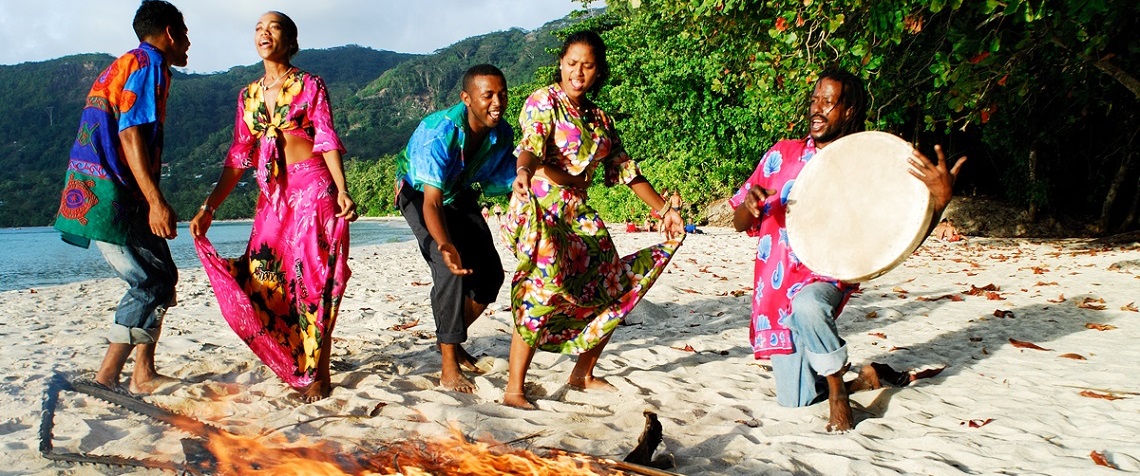 ICT
S
eychelles is ranked 2nd in Africa according to the ICT Development Index 2017, it has both the highest internet penetration (70%) and the highest mobile phone penetration (162 per 100) in Africa.